Blog
American Eagle Financial Credit Union will Donate 1% of Credit and Debit Card Interchange Income to Charities Selected by the Public via their new Cas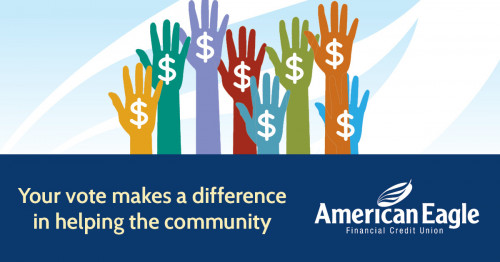 Continuing its tradition of putting philanthropy into action to help create safer, healthier and more vibrant communities, American Eagle Financial Credit Union (AEFCU) now invites its members and the general public to help decide what qualified, local nonprofit organizations will receive donations with its new participatory funding program, Cash Back to the Community.
American Eagle will donate 1% of its credit and debit card interchange income to three nonprofit and/or 501(c)(3) organizations each quarter through the Cash Back to the Community program. Funding for the program is generated each time its members use an American Eagle Financial Credit Union credit or debit card. At the end of each quarter, one percent of the total interchange income–the fee paid for credit and debit card transactions–will be distributed to the three top qualified nonprofits as voted on by a combination of the Credit Union's members and the public.
"As Connecticut's largest community-focused credit union, we are always concentrated on making the places where we live and work better. Cash Back to the Community expands American Eagle's philanthropic efforts by inviting our members and public to play an active and engaged role in helping steer where the new funding will be used," said Dean Marchessault, president and chief executive officer of American Eagle Financial Credit Union. "This program builds upon funding that we already provide to the community, including corporate and in-kind donations, grants from our AEFCU Fund at the Hartford Foundation for Public Giving and employee volunteerism."
Three nonprofit organizations will be selected each quarter for a total of 12 Cash Back to the Community donations annually. In addition, members and the public are eligible and encouraged to nominate and vote for donor recipients via American Eagle's website or social media sites, including Facebook, Twitter, Instagram and LinkedIn.