Blog
Hartford Federal Credit Union Rallies Community in Thousand Champions Against Hunger Campaign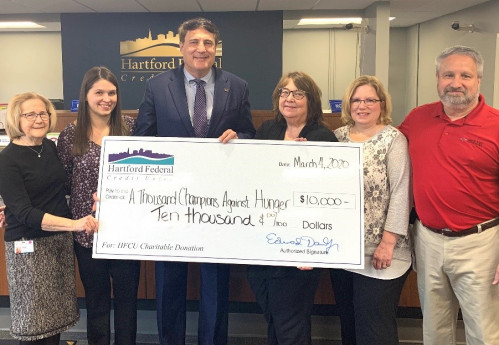 While hunger and food insecurity is not a new concern, this considerable hardship has grown substantially. The current COVID-19 pandemic has amplified this problem and put many more people at risk. The individuals who need food assistance are neighbors, friends and co-workers. So many people who are struggling with hunger do so in silence and are forced to make heart-wrenching decisions and sacrifices to secure food for themselves and their families.
The employees at Hartford Federal Credit Union believed that it shouldn't be like this and decided to do something about it. It was with that steadfast belief, the Hartford Federal Credit Union Thousand Champions Against Hunger Campaign was conceived. The objective for the Thousand Champions Against Hunger Campaign was to encourage 1,000 individuals to donate just $10 or 10 pounds of food each, in an effort to raise a combined $10,000 of food and monetary donations.
To maximize the amount of food made available to local food banks through the campaign, more emphasis was placed on attracting monetary contributions. Food banks' access to wholesale pricing enables them to leverage food purchases 5 to 1 rather than merely receiving food purchased by donors at retail prices. This enabled the $10,000 of donations to be leveraged into $50,000 of food. The Credit Union was elated to be able to present checks to the Joan C. Dauber Food Bank at St. Francis Hospital, Newington Food Bank, South Windsor Food Bank, Simsbury Food Bank, and Safe Net Ministries for their food bank in Stafford Springs. In addition to achieving their goal of raising $10,000, over 800 pounds of food was collected and donated to the Archdiocese of Hartford for distribution within the community.
Hartford Federal Credit Union sincerely appreciates the employees, members, and business partners who stood side-by-side in the war against hunger. The Credit Union also acknowledged Whittlesey, P.C. and St. Francis Hospital who made noteworthy contributions at a time when it was needed most.