Blog
Sikorsky Credit Union Donates 300 Backpacks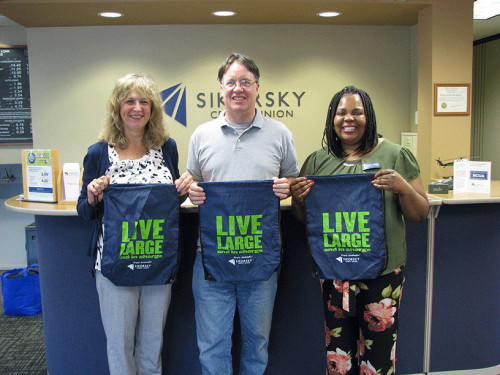 Summer is in full swing, and once again, children arriving for day camp at the Sterling House Community Center in Stratford received a nice surprise. Recently, Danielle Walton and Debbie Kiosse, Branch Manager and Assistant Manager of the Oronoque office of Sikorsky Credit Union presented 300 drawstring backpacks to Christopher Carroll, Director of Development at Sterling House Community Center. The backpacks are used for the Sterling House summer day camp program. The Credit Union has donated approximately 1,500 backpacks to the community center in past five years. Sterling House is a community center in Stratford that annually serves more than 8,000 children, teenagers and adults through a wide variety of community and social programs.
Over the past year, Sikorsky Credit Union has also supported other Sterling House activities, including sponsoring a Sterling House youth sports team and collecting unwrapped toys for children in need during the holiday season. Credit Union employees are also personally involved in Sterling House programs. Amanda Meeson, Executive Director of Sterling House was very grateful for this donation; "Many thanks to Sikorsky Credit Union for another generous donation for all the youth attending our Summer Day Camp this year. We rely on donors like Sikorsky Credit Union to help us provide the best experience possible for our summer campers and we are continually amazed at the support we receive in so many ways." Sikorsky Credit Union employee Danielle Walton added, "We always get great feedback on how much the kids like our backpacks and how useful they are, even when summer's over and the activities for the school year have begun."
About Sikorsky Credit Union
Founded in 1948, Sikorsky Credit Union (www.sikorskycu.org) is open to everyone who lives, works or worships in Fairfield, New Haven or Hartford County with branches in Stratford, Shelton, Seymour, Milford, Trumbull and Danbury as well as easy and convenient online banking capabilities. Deposits are insured by the National Credit Union Administration, an agency of the U.S. Government.